Consistent Delivery of Quality Software
Waterfall? Agile? Prince? Unified? We choose the best bits of each that suit the individual requirement to craft a flexible light-weight approach to our projects.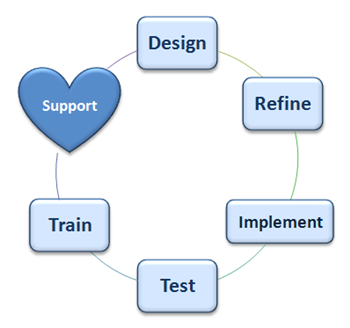 Define
Via an interactive and collaborative workshop, ideas and requirements are discussed and an initial proposal is created with input from all parties involved in the project.  We see our clients as partners, not customers and we stress the importance of interaction at this (and all other) stages of the project to ensure you are getting exactly what you need.
Refine
At this stage, we refine the requirements via an interactive design process detailing graphical and functional elements, collating and developing into a clear implementation plan.  In this way, further requirements may be identified and investigated, thus ensuring the functionality of the final solution really delivers against the business need.
Implement
With regular updates to discuss any potential issues or required changes, your project is implemented by our team of highly skilled and dedicated software developers using standards compliant web technologies, bespoke code and custom databases.
Test
Once a prototype has been created, we test it on our server ourselves and also using your employees.  We test many attributes of the product including functionality, usability and aesthetic qualities in comparison to your expectations, adjustments can then be made according to the results.
Train
Before and after your final project has been implemented, our team offer comprehensive training to your IT department. Hands-on training in the use of the application and easy-to-follow user guides have been found to be the most effective.
Support
With ap16, you can be assured that your systems have been developed by the best. We are so confident in our work that we guarantee 100% customer satisfaction every time you engage with us.   Every project includes a free warrantee period, during which any aspect of the project that doesn't meet our high standards will be addressed free of charge.